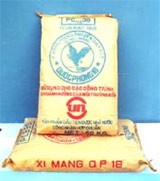 Cement is one important material for construction
The Prime Minister recently asked the Ministry of Construction (MoC) to draft a plan on probing, exploiting and using minerals for cement production. The plan is presented to the prime minister  before December 2006.
The ministry has assigned the Institute of Constructional Material to implement the plan.
MoC leaders said the result of the plan will be useful for state management of licensing the exploitation of minerals to produce cement.
It will help with the procedures of licensing enterprises and individuals that invest in producing cement.