The Ministry of Agriculture and Rural Development held an online conference with 63 provinces and cities across Vietnam on August 2, to discuss better control measures on food safety and hygiene.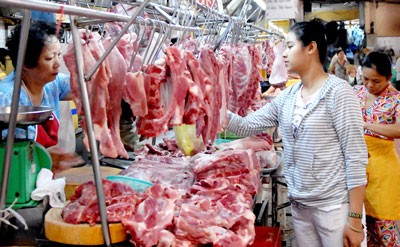 Authorities should tighten control on food safety at retail markets. (Photo: SGGP)
The ministry said that in the past seven months it had helped to draw various policies to improve quality control of agricultural produce and agro-forestry-aqua products. By running food safety inspection programs, authorities had uncovered several violations in food safety procedures.
Tests on seafood products showed that only 11 out of 1,528 samples contained chemical residues and antibiotics beyond permissible limits. This figure was lower than in 2012. Disqualified samples were from central and southern provinces including Khanh Hoa, Dak Lak, Tien Giang, Long An, Dong Nai, Ben Tre, and Tra Vinh. Test on bivalve molluscous also uncovered two samples of scallop and ark clam in Phan Thiet out of 470 samples with Lipophilic contamination.
According to Nguyen Nhu Tiep, head of the National Agro-Forestry-Fisheries Quality Assurance Department, the most alarming issue in the past months was the safety of cattle and poultry meat, in which both harmful residue and microorganism contamination proved a challenge.
In the first phase of the program to monitor microorganism contamination and harmful residue in cattle and poultry meat, three out of 39 samples of chicken meat were found contaminated with Campylobacter spp; two out of 40 samples contained Chloramphenicol; four out of 40 samples contained Furazolidon; and four out of 40 samples contained Tetracyline.
Tests on vegetables and fruits also unveiled many violations. According to Nguyen Xuan Hong, Head of the Plant Protection Department, among 26 domestic-grown vegetables and fruits, vegetables provided a higher risk than fruits. Among fruits, fresh grapes had highest pesticide residue, followed by melons and bananas, while mangoes and oranges contained lower pesticide residue.
According to Minister Cao Duc Phat, farmers still complain about low quality fertilizers, veterinary medicines, and cattle-feed, which affect their production whereas consumers remain anxious about food safety and hygiene.
Tightening control on food safety is an urgent task that requires more efforts to resolve; hence the ministry has called for support from provincial governments to tackle these issues.