The Ministry of Labour, Invalids and Social Affairs (MoLISA) held a press conference on March 28 to update the media on the unexploded ordnance (UXO) contamination and the settlement of post-war UXO consequences in Vietnam.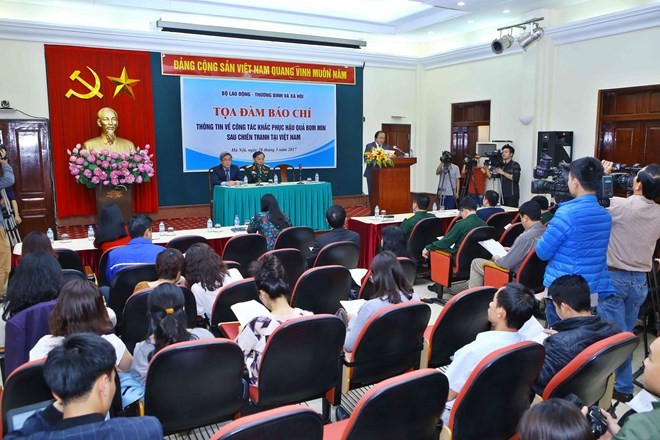 MoLISA holds a press conference on the UXO situation in Vietnam on March 28 (Photo: VNA)
The event took place on the threshold of the International Day for Mine Awareness and Assistance in Mine Action (April 4).
MoLISA reported that Vietnam is one of the most UXO contaminated countries in the world. It is estimated that about 800,000 tonnes of UXOs were left across the country after the war ended, mostly in the central region. Some 6.13 million hectares of land are polluted with or suspected of being polluted with UXOs, accounting for 18.82 percent of the country's total area.
Since 1975, UXO incidents have killed more than 40,000 people and injured 60,000 others, most of whom were breadwinners of their families or children.
According to the Sapper High Command, the US army used more than 15.3 million tonnes of explosives during the war in Vietnam, about 5 percent of them remain unexploded.
Since the war was over in 1975, the Party and State have considered the settlement of post-war UXO consequences as an urgent, regular and long-term task. They have also paid attention to assistance to UXO victims to help them integrate into the community.
Deputy Director of the MoLISA Department of Social Assistance To Duc said UXO victims are defined as persons with disabilities caused by bomb and mine accidents. Therefore, support for UXO victims is combined with policies for people with disabilities, including the Law on Persons with Disabilities, the Government's Decree 136/2013/ND-CP on support for people subject to social assistance, and the project on disabled people assistance.
MoLISA has instructed localities to provide training and jobs for UXO victims, offer treatment, and help the targeted group to integrate into the community. It has also worked with the Ministry of Education and Training to promote special education for the victims, he noted.
Pointing out shortcomings in support provision, Duc said policies for the disabled should continue to be carried out in an effective manner while it is necessary to expand support services and social work centres, including setting up hotlines through which UXO victims can ask for help when they need. Hospital and function rehabilitation centres, along with vocation training and job creation, also need to be developed.
A ceremony marking the International Day for Mine Awareness and Assistance in Mine Action is scheduled to take place in central Quang Nam province on April 4. An exchange programme will also be held in Hanoi later the same day by the association for supporting Vietnamese UXO victims.