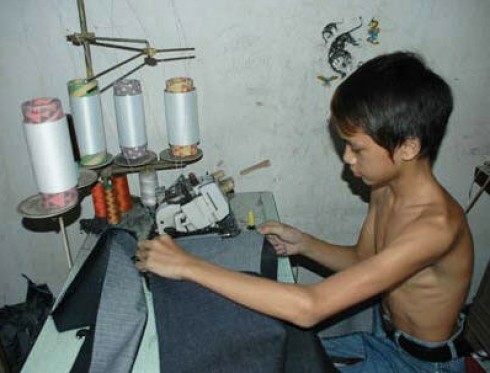 Child laborers are forced to work up to 16 hours a day at some garment factories in Ho Chi Minh City (Photo: Tuoi Tre)
At a meeting organized by the Ministry of Labor, Invalids and Social Affairs and UNICEF in Ho Chi Minh City on December 17, to discuss penalties on violations on children, the disabled and the elderly, participants thought that penalties for such violations should be increased.
Most participants said the draft on fining people who violated regulations on taking care of children, the disabled and the elderly were so slight that it did not deter people from committing these crimes.
As per the draft, those who employ child labor or force children into   prostitution and related activities must receive a penalty of VND40 million (US$1,921).
Those who violated the regulation of taking care of special persons must be fined from VND10-20 million ($480-$960) and VND30-50 million ($1,441-$2,400) for forcing children to transport or sell drugs.