The deputy minister Le Tien Tho has called for tough penalties against the Miss Viet Nam pageant 2008's organizing board which was found violating a central government rule and named an unqualified candidate as the new beauty queen.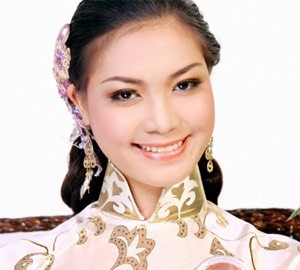 Newly-anointed Dung happily smiles after winning the coveted crown but how long can she keep up the smile is still open to doubt
Deputy Minister of Culture, Sports and Tourism Mr. Le Tien Tho requested the Secretariat of the Central HCMC Communist Youth Union - the supervising agency of Tien Phong (Vanguard) Newspaper - to urgently review and criticize the paper for organizing the scandalous contest which wrapped up early this month.
Drawing upon results of recent investigations, Mr. Tho reiterated that every candidate for the Miss Viet Nam title must be a high school graduate under ministry regulations.
However, Tien Phong Newspaper and the organizing board of Miss Viet Nam Pageant 2008 did not follow this and required contestants to only attend high school.
The organizer previously justified that it sent the ministry in April a proposal asking for a lower educational criterion for candidates and assumed it would be approved in time. "Our one fault is just a step forward", it claimed.
But Mr. Tho rejected this, affirming there would be no change concerning education requirements at national beauty pageants.
"Moreover, after the semi-finals, the board did not submit the profiles of all qualified candidates to the Department of Art Performance under the ministry, so the department hardly checked and did not detect the violations", Mr. Tho added.

Thus he concluded that awarding the crown to 18-year-old Tran Thi Thuy Dung, a high school dropout, is "absolutely wrong and against the regulation".
In other news, the board already paid a fine of VND10 million (US$600) for their violation. As for the crown on Thuy's head, it is still steady…for now.

Related articles:
Ministry Faults Miss Viet Nam Pageant
Crown Stays Steady on Miss Vietnam's Head
Did Miss Viet Nam Pass Her Test?