Due to prolonged flooding in central province, the Department of Preventive Medicine under the Ministry of Health yesterday issued warning of disease outbreaks and preventive ways.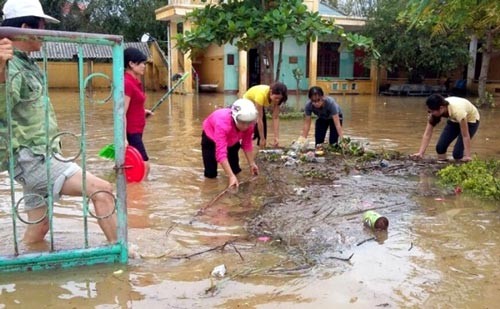 People clean the environment after flood (Photo: SGGP)
As per the warning, to prevent epidemic in floods aftermath due to polluted water source and unhygienic environment in flooded areas, medical clinics should ensure medications and disinfectants. Especially, the health sector in the central provinces must carry out surveillance of diseases including sending mobile teams to flood hit areas.
Additionally, the sector must provide chemicals for each household to disinfect environment and water source. Increased information of water supply is needed to spread to each household.
Moreover, the health sector has to detect and handle contagious diseases such as diarrhea, pink eye, respiratory problem, skin diseases, influenza, cholera, dysentery and typhoid.
Residents in flood hit areas should eat boiled food and water, and wash hands regularly with soap and use provided chemicals to disinfect water for cooking; spraying chemicals in burying animal corpses.