A pall of gloom covers the central Province of Phu Yen where many families have lost members, some more than one, and several people are still missing in the devastation caused by Typhoon Mirinae.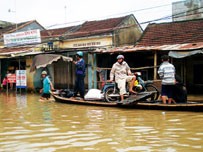 Many areas in Phu Yen Province remain inundated by floods caused by Typhoon Mirinae
The province does not have enough coffins to bury the dead.
Nguyen Van Thanh said amid sobs that four members of the family of a neighbor, Ra, had been swept away while another, Pho, lost his wife and son.
Do Kim Hung in Song Cau Commune said his house had been swept away by the flood on November 2 and he discovered his son's body a day later and his wife's a few days later.
Two of his neighbors had each lost two daughters -- Huynh Thi Van, 14, Huynh Nhu Hanh, nine, Vo Thi Kim Quan, seven, and Vo Thi Kim Quynh, two.
Mirinae made landfall on November 2, bringing heavy rains and floods that left 98 people dead, 20 missing, and 66 injured.
Phu Yen recorded the largest number of deaths with 69, followed by Binh Dinh with 13, and Khanh Hoa with 12.
Around 1,130 houses have been destroyed, with 15,283 others losing their roofs, and 43,715 still remaining under water.
Related articles:
Heavy rains, floods recede in Central Vietnam
Central Vietnam counts flood damage
At least 90 die in Vietnam floods: officials
35 dead, nine missing in central Vietnam floods