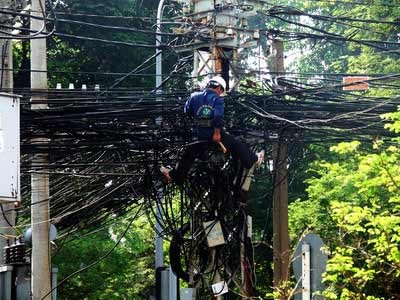 Cables on electricity posts. EVN annouces to increase fee to hang cables on their posts but telecommunations companies oppose the increase
The Ministry of Industry and Trade (MIT) has ordered Viet Nam Electricity (EVN) to stop dismantling fiber optic cables hanging on its electric posts, adding the stop is aimed at maintaining telecommunications in the country.
Telecommunications companies such as the Vietnam Post and Telecommunications Group (VNPT), military-run operator Viettel and Saigon Postal (SPT) are required to pay EVN to hang cables on their posts.
In March, however, EVN announced it was increasing its fees.
The telecommunications companies opposed the increase and to date, no agreement has been reached between the electricity sector and telecom enterprises.
VNPT and Viettel constructed their own pillars to hang cables on while some of EVN's subdivisions have threatened to cut the cables of telecommunications companies.
MIT ordered both sides to hold further talks on the issue and said EVN was not to dismantle any cables to ensure citizens would not lose their phone and Internet connections.
The recent dispatch added that if no agreement can be reached, both sides must submit a detailed report explaining their case. EVN must say clearly why it had to increase its fees while telecoms must say why they feel the increase is unreasonable.