MobiFone, one of the largest mobile service providers in Vietnam, has apologized to customers for confusion about a recent promotion on its VND200,000 recharge cards.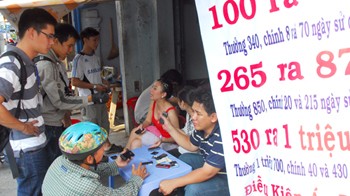 Customers buy MobiFone cards on Huynh Van Banh Street, Phu Nhuan District, HCMC (Photo: Tuoi Tre)
Many customers have complained, as they did not instantly receive an additional 170 percent of the cards value, as they expected.
Meanwhile, many others complained they had only received an additional 50 percent to their account.
MobiFone said the confusion was caused because the 170 percent promotion that was advertised, only applied to long term customers who had been with MobiFone for three years or over.
Vo Thi Tuyet, a subscriber for three years, however, said she had only received a 50 percent bonus, while her friend, who had just used the company's services for a month, received the full 170 percent.
She said the company had sent her a message saying that from April 15-17, MobiFone would offer an extra 170 percent of the value of recharge cards worth VND200,000 or higher.
MobiFone responded to the complaints saying the special promotion program was for long-term customers on the occasion of its 17th birthday.
For those who are members of a program named "long-term connection", with card worth VND200,000 or higher, customers would receive an extra 170 percent of the card value.
For cards below VND200,000, they would receive promotion of 100 percent.
For those who are not members of the program, they would be offered a promotion of 50 percent for all cards.
MobiFone explained that Tuyet misunderstood as she would receive the full 170 percent as announced within 24 hours of recharging her card.
They said in all eligible cases, the first 50 percent was added instantly while the remainder was added 24 hours later.
Mobifone has altered the text message announcing the promotion, following the complaints.