Cell phone service providers VinaPhone, MobiFone, and Viettel have extended the December 31 deadline for registration by prepaid users after they failed to complete the procedures on that day for the huge crowds that thronged their offices.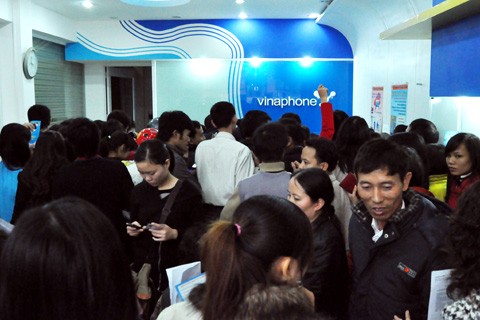 Many pre-paid mobile subscribers at a VinaPhone registration counter to register their details on December 31. (Photo: VnExpress)
MobiFone will continue the registration until January 5 and VinaPhone until December 6 while Viettel said it would continue to receive subscribers' information without specifying a deadline.
A representative from Viettel, a military-run company, said more registration counters would be on January 2 and 3.
The Ministry of Information and Communication announced a few months ago that all prepaid subscribers have to register their details by December 31, 2009, failing which they cannot use their phones any longer.
But with many people waiting too long to register, the operators were overwhelmed and, despite working until 11 pm on December 31, could not complete the task.
MobiFone had opened 15,000 counters across the country, registering 20 million subscribers. That leaves around one million unregistered yet.
The ministry has ordered the companies to submit the registration data on January 10.
It said many SIM card sellers have applied to establish businesses and registered many cards since businesses do not have the three-card limit that individuals do.
Deputy Director of the ministry's information department, Nguyen Xuan Tru, said there are around 100 million mobile subscribers in the country, 90 per cent of them using pre-paid cards.
Viettel, one of the largest mobile networks in Viet Nam, has at least 20 million customers with more than three numbers each. The figures are also high for MobiFone and VinaPhone.