Prime Minister Nguyen Tan Dung yesterday asked the Ministry of Construction to cut the duration of administrative procedures on investment by at least one-third by 2015.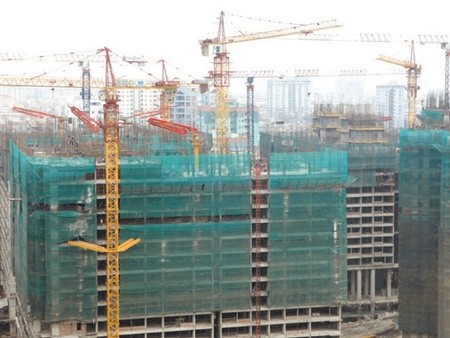 A residential quarter under construction in Ha Noi's Trung Hoa-Nhan Chinh new urban area. The duration of administrative procedures for construction investment will be shortened next year (Photo: VNS)
The PM held a working session with ministry officials in Ha Noi.
It takes businesses 260- 280 days to complete the approximately 15 procedures needed to invest in State budget-funded projects, said Minister Trinh Dinh Dung. Those investing in non-State projects typically finalise 19 procedures in 392-447 days.
In 2013, the World Bank ranked the country 28th among 185 countries and territories in terms of construction licensing, a rise of 39 places from 2012.
Of the 11 indices included in the report, the construction-related index was the one on which Viet Nam achieved the highest result.
PM Dung encouraged the sector to continue to boost transparency and shorten procedures, as these flaws increased project expenses, impacting the nation's competitiveness.
At the session, the leader also asked the ministry to build social housing for low-income people and policy beneficiaries and pay heed to restructuring groups and corporations under its management.
In July, the Cabinet leader ordered officials in the general departments of taxation and customs to simplify procedures in their fields as part of efforts to improve the national business climate and competitiveness.
Land-related procedures
Prime Minister Dung has also ordered the Ministry of Natural Resources and Environment to make available in September land-related administrative procedures as required by the 2013 Land Law.
Dung had a working session in Ha Noi yesterday with the ministry on how to speed up administrative procedures in land management.
The ministry has so far publicized 214 administrative procedures, including 74 related to land management and 42 on the environment, together with applying information technology widely in handling procedures, making it easier for people and businesses.
The ministry, however, admitted that the procedures have, to-date, failed to meet the expectations of the people and businesses. It noted that several regulations have created loopholes thereby complicating land-related procedures.
The ministry blamed, among others, the complexities behind land-related issues along with legal regulations that required meticulous handling as the stumbling blocks to faster administrative processes.
In conclusion, PM Dung stated that land-related administrative procedures needed to ensure better services for people and businesses.
He asked the ministry to guide localities nationwide in re-arranging their one-level land registration office. He cited a total of 41 land-related administrative procedures handled by the office, which is down to 33 from those required, as an evidence of efficiency.
Dung also instructed the ministry to speed up the work on a land database to facilitate online transactions and increase the use of information technology to shorten the process of transactions.