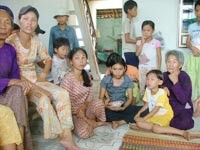 People are waiting for news of missing fishermen

Da Nang Bao Viet Insurance Company has offered payouts of VND10 million each to typhoon dead.


So far, relatives of 12 victims among 18 have received the compensation. And, insurance company will pay the benefits for the 6 remaining when the victims' families come forward to submit their claims.
The insurance company has named 193 of missing policy-holders, including 100 in Quang Nam, 78 in Da Nang and 15 in other provinces. Families of these victims will receive the payment when death certificates are issued, said Director of Da Nang Bao Viet Insurance Company.
Marine insurance will cover the five insured fishing boats, the highest compensation is VND500 million and the lowest is VND60 million. All the required procedures are being completed so that insurance claims will be met as soon as possible.
The Vietnamese Red Cross collected over VND300 million for the tropical storm victims on May 29, increasing the total amount donated to VND1.5 billion.
Readers of Sai Gon Giai Phong on May 29 made a collection of up to VND300 million for typhoon victims . The Kettledrum Stage handed over all the proceeds of a concert of nearly VND50 million to the foundation on the same day. Him Lam Trading Company Ltd. sent an amount of VND20 million to the SGGP Typhoon Chanchu funds.
Related articles:
Many More Fishermen Bodies Found at Sea
More Broken, Drowned Fishing Ships Found
Search for Typhoon Victims Continues
Over 600 Fishermen Survive Typhoon Chanchu
362 More Typhoon Victims Saved
Assistance for Victims To Overcome Damages of Typhoon
Over VND90 Million Donated to Typhoon Victims
President Tran Duc Luong Sends a Message of Condolence to the Typhoon Chanchu's Victims
State President Tran Duc Luong Sends a Message to Thank Chinese President Hu Jintao
China Rescues 330 Vietnamese Fishermen
Sai Gon Giai Phong Newspaper Raises Funds for Typhoon Chanchu Victims
General Secretary Sends Condolences to Typhoon Victims' Families
Central Vietnam Fishermen Return from Storm
Central Viet Nam's Fishermen Affected Most Seriously