According to the High Command of the Third-zone Navy Force's report on May 27, over the past three days, two ships, HQ-629 and HQ-631, were promptly continuing their search for victims of typhoon Chanchu.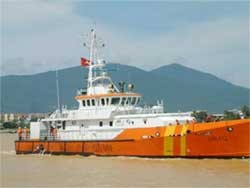 Third-zone Navy Force' ship is searching for typhoon victims.
The two ships have recently found many broken or sunken fishing boats. However, there are no new survivors or dead body's found.
To date, the search area of these ships covers roughly 500 km and is expanding to a larger scope.
On the same day, many charitable delegations visited and helped typhoon victims' families in Thanh Khe District of the central city of Da Nang. A sum of VND 165 million was collected and donated to the families by the charitable delegation from Hoan Kiem District of Ha Noi City.
Before that, the Viet Nam Posts and Telecommunication Corporation (VNPT) donated VND 200 million to ease the difficulties for typhoon Chanchu victims in Da Nang City and the central provinces of Quang Nam and Quang Ngai.
Mr, Nguyen Cong Su, Deputy Head of the Government's Office, recently signed a document in which he asked the Ministry of Natural Resources and Environment to reconsider the forecast work of typhoon Chanchu.
This decision was made after some newspapers questioned the forecasting as the tardy forecast of typhoon Chanchu resulted in the wake of losses for there was not enough time for fishermen to make preparation. The ministry must continue its inspection and report to the Prime Minister before May 31.
Talking with the press on May 25, Le Cong Thanh, Director of the National Hydrometeorology Centre confirmed, "We correctly forecast the direction of the typhoon, but a little bit late."
According to Mr. Pham Liem Chinh, Head of the Chinh and Associates Law Office, the center's late forecast could be ground for criminal charges.
Related articles:
Search for Typhoon Victims Continues
Over 600 Fishermen Survive Typhoon Chanchu
362 More Typhoon Victims Saved
Assistance for Victims To Overcome Damages of Typhoon
Over VND90 Million Donated to Typhoon Victims
President Tran Duc Luong Sends a Message of Condolence to the Typhoon Chanchu's Victims
State President Tran Duc Luong Sends a Message to Thank Chinese President Hu Jintao
China Rescues 330 Vietnamese Fishermen
Sai Gon Giai Phong Newspaper Raises Funds for Typhoon Chanchu Victims
General Secretary Sends Condolences to Typhoon Victims' Families
Central Vietnam Fishermen Return from Storm
Central Viet Nam's Fishermen Affected Most Seriously