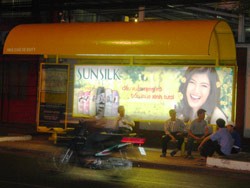 A bus station in Nguyen Thi Minh Khai Street, Ho Chi Minh City. (Photo: T.C)
Public Passenger Management and Operation Center of Ho Chi Minh City Department of Transportation and Public Affairs said  90 more bus stations will be built in the city center in the first quarter of 2006.  
The stations, designed and invested by advertising companies, will be made of stainless steel at the cost of VND40 million (about US$2,500). 
Ho Chi Minh City People's Committee has also permitted the Center to build 60 bus stations in the suburbs of Ho Chi Minh City with the budget of nearly VND3 billion (about US$189,000). These stations will be located along the highways where most passengers are workers and students.  
 Ho Chi Minh City currently has over 250 bus stations.