The extreme cold weather continues to cause havoc as on Wednesday alone more than 5,000 heads of cattle were reported dead, bringing the total number to 17,000.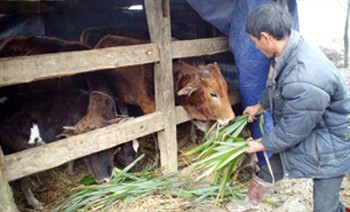 People advised to keep cattle warm in well fenced stables covered with nylon cloth in the central and northern regions
Lang Son Province has already reported 2,700 dead cattle as compared to Cao Bang Province where 2,500 counts were made.

Son La, Lao Cai and Lai Chau provinces too reported over 2,000 dead cattle in each province.
In related news, Ma Quang Trung, director of the Lao Cai Province Department of Agriculture and Rural Development said a scarcity of Tet flowers is expected due to extreme cold weather conditions.
The biting cold has been unconducive to peach flowers in Sa Pa, Bac Ha, Muong Khuong, Bat Xat and Si Ma Cai districts.

The flower buds will not be able to blossom in time for Tet which surely will see prices skyrocket. Terrestrial orchids too are expected to yield a lean harvest with prices shooting up by 50-80 percent.
Related articles:
Severe cold weather to prolong until Tet
Cold spell continues plaguing central, northern residents
Over 9,200 cattle die from northern cold spell
Northern residents struggle for their livelihood in icy weather
Cold weather killing cattle