Another 40 households in the valley near Ba Cheo Canal, which was badly polluted from wastewater from the Sonadezi Company, are suing for compensation in Long Thanh District in the southern province of Dong Nai.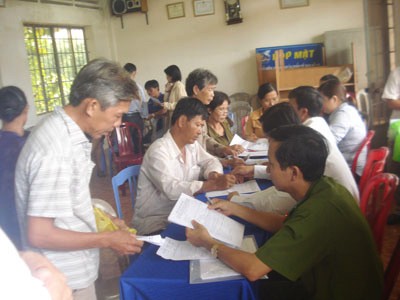 Residents gather to sue the Sonadezi Company at the People's Committee in Tam An Commune of Long Thanh District in Dong Nai Province in 2012 (Photo: SGGP)
According to Nguyen Thi Thu Ha, chairwoman of the Farmers' Association in Long Thanh District, the above households are located in the area seriously affected by wastewater flowing from the Sonadezi Company.
Earlier, hundreds of households had sued Sonadezi for damages because of continued wastewater pollution for over two years.
In 2011, Sonadezi was caught red-handed while releasing untreated wastewater for several consecutive years into the Ba Cheo Canal which flows into the Dong Nai River.
The untreated wastewater not just polluted the canal but surrounding ground area well.
Related article:
Sonadezi Company penalized for polluting environment