Further stretches of the Hau River bank continued to slip on Sunday, putting more houses in danger of being swallowed by the river in Binh Khanh Ward of Long Xuyen City in the Mekong Delta province of An Giang.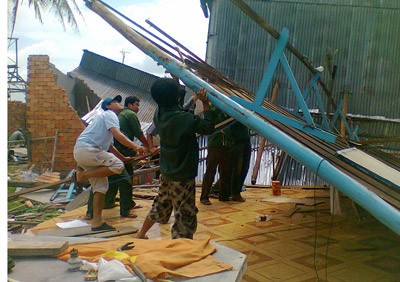 Local residents clear debris of a collapsed house after the landslide along the Hau River bank in An Giang Province on May 26
The landslide has now stretched over nearly 30 metres into the mainland. At the edge of the landslide on one end lies a noodle processing unit while at the other end exists a warehouse, both of which stand to drop into the river at any time.
Vo Duy Cuong, chairman of the People's Committee in Binh Khanh Ward, said that the heavy rainfall on Sunday has made the area more susceptible to further landslide. A 40m long crack has also been found in the area.
Authorities in An Giang Province have warned about dangerous conditions along a 180m stretch of the river bank.
Total numbers of households affected by the landslide have increased to 27, of which 15 have been evacuated and the remaining are ready to relocate if the landslide worsens.
Tran Anh Thu, deputy director of the provincial Department of Natural Resources and Environment, said that relevant sides should first control the eddies. In the long term, the province will need to develop a project to control the river's flow.
The project will help to uncover vulnerable spots for landslides and prevent them from occurring so frequently. However, it is a very costly project which needs assistance from the central Government.
Related article:
No casualties in severe landslide in An Giang Province