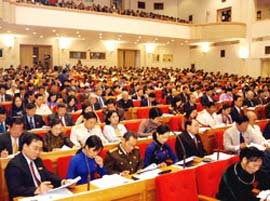 NA deputies join the NA Congress for the 11th term.
This morning's proposal, submitted to the NA Standing Committee for the coming election, May 20, suggests that 20% of deputies in the 12th National Assembly (NA) be non-party members.
At a conference discussing the NA structure, constituents and candidate selection, the Vietnam Fatherland Front (VFF) Committee presented the aforementioned proposal today during discussions about the selection process of candidates for the election of the 12th National Assembly.

If the proposal goes through, of the 500 deputies of the 12th NA, 100 would be non-Party deputies, representing a 10% increase from the current NA term.
The Presidium of the VFF Committee said there would be one full-time deputy from every province, except for the densely populated localities of Ha Noi, Ho Chi Minh City, and the central provinces of Nghe An and Thanh Hoa, which may have several deputies each.
About 160 deputies of the 11th NA will run for re-election.