Vietnam will have fewer print and more electronic newspapers, according to a proposal on national press management and planning towards 2025, introduced by the Ministry of Information and Communications on September 25.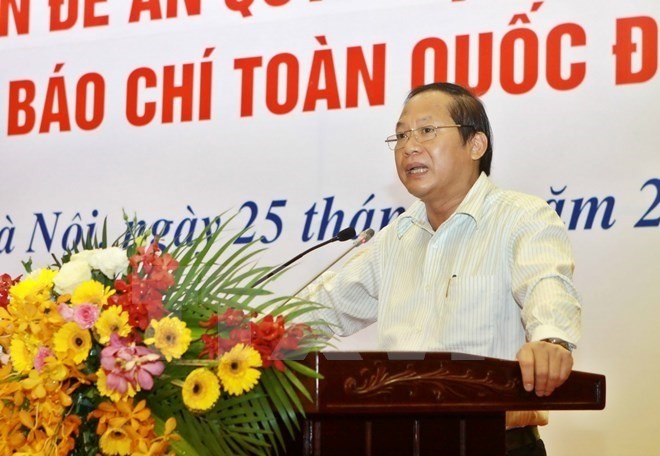 Deputy Minister of Information and Communications Truong Minh Tuan introduces the proposal. Photo: VNA
Print newspapers are being urged to shift to electronic versions, read the proposal. Electronic newspapers run by organisations and agencies below ministerial and provincial levels will be put under the management of ministries and provinces, it stated.
Meanwhile, social organisations and State-owned enterprises are unlikely to issue electronic newspapers but rather electronic magazines.
Radio and television stations are being asked to air 70 percent domestically-produced programmes and only 30 percent foreign contributions while the number of foreign channels is not to exceed 30 percent.
Vietnam News Agency, the Radio Voice of Vietnam, the Vietnam Television, Nhan Dan (People) Newspaper, and Cong an Nhan dan (People's Public Security) Newspaper are expected to operate in the multi-media model without setting up their own broadcast system for their TV channels.
Local television networks will become financially independent by 2020, said the proposal.
According to Deputy Minister of Information and Communications Truong Minh Tuan, the proposal aims to improve the efficiency of press management and leadership, addressing the overlapping investment and loose management of the media and enhancing capacity for media managers as well as journalists.
At the same time, Minister of Information and Communications Nguyen Bac Son said the proposal asked media agencies to submit their plans to the ministry by October 20. A number of press agencies will become pilot models for applying the proposal until 2017.-VNA