Many National Assembly deputies demanded that the list of taxable products under the Bill on Environment Tax be expanded to include several more commodities that are unfriendly to the environment.
Their demand was made while discussing the bill in their meeting on June 5 in Hanoi.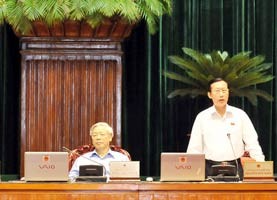 National Assembly deputy chairman Nguyen Duc Kien speaks at the June 5 meeting of the seventh session of the 12th NA (Photo: VOH)
Danh Ut from Kien Giang Province and Nguyen Thi Kha from Tra Vinh Province said the bill has yet to include in the taxable list several products, including tobacco, plant protection chemicals, and cleansers, which may cause pollution problems and give harmful effect on human health.
Meanwhile, Nguyen Van Ba from Khanh Hoa Province recommended that the tax not be levied on plant protection chemicals, since it will become a cost burden on farmers who regularly use those products in agricultural production.
For the sake of environmental protection, agencies concerned should encourage farmers to use environmentally friendly pesticides, he said.
Putting an emphasis on the responsibility of polluters, many deputies, including Bui Thi Hoa from Dak Nong Province, said the bill should adopt a regulation that "polluters must pay for pollution treatment and that such a payment must be commensurate with pollution problems they have caused."
They also said some tax rates provided for in the bill were not reasonable. Ms. Hoa pointed out: "It is irrational for coal and oil to be taxable lower than petrol, since they can cause more pollution problems than petrol."
Nguyen Thi My Huong, from Da Nang City, said such a regulation on tax rates fails to form an adequate basis for consumers to opt for using less polluting products.
In response to deputies' opinions, NA deputy chairman Nguyen Duc Kien asked the bill's drafting committee to consider the addition of some more products to the taxable list.
The bill may also include a provision stating that the Government, based on the country's actual conditions, may submit new taxable items to the NA for approval in the future, he said.