It is an urge to supply at least 60 liter of fresh water per person a day in the Mekong delta for the government beyond 2015.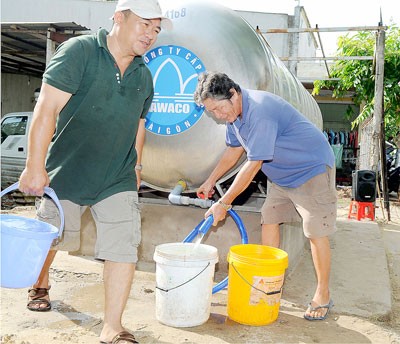 People in a rural district use fresh water (Photo: SGGP)
At an annual online meeting about clean water and environment sanitation in rural districts held last week, deputy Prime Minister Hoang Trung Hai stressed that global climate change will deduce the degradation of fresh water resources and environment hygiene; it will threat to people's health condition.
Accordingly, fresh water supply is very important for living quality in the countryside areas and it is one of the targets of Millennium Development Goals, Hai added.

Some provinces such as the Mekong delta provinces of An Giang, Kien Giang, the central province of Binh Dinh , Quang Tri, the highlands province of Gia Lai, the northern provinces of Thai Binh, Hai Duong did carry out well drinking fresh water and basic sanitation program.
Ho Chi Minh City is leading the program with most of households in the outlying districts using clean water and standard toilets.

State Prime Minister has approved the national strategy for clean water and basic sanitation from 2000 to 2020 both aims at improving people's living condition and helping increase socio-economic growth in the country. The strategy includes many phases.
This year's phase requires 85 percent of rural households to access to clean water, 65 percent of using standard toilets, 45 percent of hygienic breeding farms and most of schools and medical clinics having enough water and toilets.

After fifteen year implementation of the program, it have improved habits of using clean water and standard toilet instead of open defecations into residents in the countryside. Besdies, as many as private companies have invested in providing fresh water to over 500,000 residents in Dong Thap, Tien Giang, Logn An in the Mekong delta and Hung Yen, Hai Duong provinces in the North and rural regions nationwide.