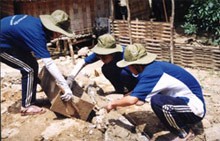 The young volunteers are buiilding the house for war invalids or martyrs' families
More than VND230 billion and other valuables were collected during the "For Poor People" campaign in Ho Chi Minh City.

It was announced by Ho Chi Minh City's authorities at the five-year review conference on April 14, 2006. The money and other valuables were collected by city's government offices, organizations, enterprises and citizens.
With the amount of money, the municipal authorities have built 1,832 homes for war invalids or martyrs' families and 11,345 Compassionate Homes; repaired 3,388 houses; providing 223,337 scholarships and 4,322 means of transport to students; fitted up to 8,588 power meters and water meters; building 19,225 toilets for the poor

The report also shows that the quality of the poverty alleviation movement has increased through targets such as primarily wiping off dilapidated houses, providing a substantial facelift to 20 poor city's wards and communes, helping more than 10,000 households to emerge from the poverty trap, reducing the number of poor households following new criteria from 7.72 percent down to more than 6 percent.