Prime Minister Nguyen Tan Dung has requested more transparency from concerned authorities in making public all factors that add up to creating a petrol price structure.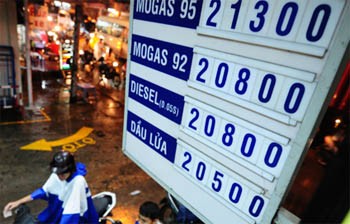 Prime Minister Nguyen Tan Dung has asked for more transparency in petrol pricing policies (Photo: Tuoi Tre)
The Prime Minister called for more transparency at a meeting on September 26 to implement Decree 84/2009/NĐ-CP by the Government for the gasoline industry.
Accordingly, PM Dung has asked businesses to strictly follow regulations on petrol retail pricing as per the new Decree. 
He also instructed the Ministries of Finance, Industry and Trade to closely coordinate with each other and take responsibility, while closely monitoring adjustment of gasoline prices. Any adjustments of prices must be made public.
He also ordered relevant organs to work together in operating and controlling petrol prices as per current regulations and to resolve difficulties in this process. In case there are issues out of their power, they should report and petition the Prime Minister well in time to prevent any negative market reaction that would affect consumers.