About 16 percent of Vietnamese women in businesses hold the posts of managing director and 10 percent of them have high seats in personnel departments, according to a survey conducted by the auditing and consultancy firm Grant Thornton Vietnam .
In recent years, the number of women holding senior management titles has increased, Nguyen Thi Vinh Ha, Grant Thorton Vietnam 's Audit Partner said, citing big Vietnamese companies such as Vietnam Diary Product Joint Stock Company (Vinamilk), the supermarket chain of Saigon Co.op and Refrigeration Electrical Engineering (REE) Corporation as examples.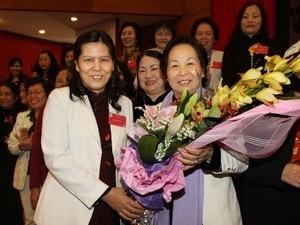 Vice President Nguyen Thi Doan (right) (source:VNA)
Statistics also indicated that by the end of 2010, eight Vietnamese leaders had been listed in the group of the richest in the country's stock market and 7.5 percent of the listed businesses were under the management of female leaders.

According to Grant Thornton Vietnam 's Managing Director Ken Atkinson, the percentage of Vietnamese women holding senior managing positions is expected to rise due to the country's high economic potentials and growth rate, plus increasing number of well-trained Vietnamese women.

The survey showed Thailand at the top of the list with 45 percent. It was followed by Georgia , Russia , Hong Kong ( China ) and the Philippines . Countries with the lowest percentages are India , United Arab Emirates and Japan where women hold less than 10 percent of the senior management positions.

On a global level, women now hold 20 percent of senior management positions, down from 24 percent in 2009, and up just 1 percent from 2004.