Only 40 per cent of the 14,000 people working in the tourism and hospitality sector in central Da Nang City are actually qualified, a study has found.
Even those who graduate from vocational centres, colleges and universities are frequently not equipped for real jobs.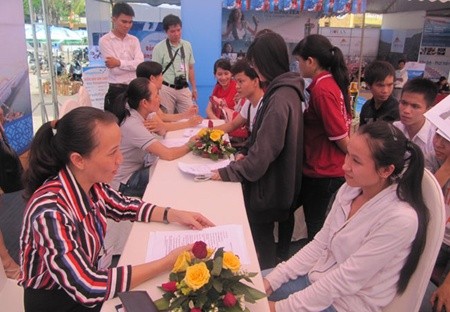 Students from central Da Nang City and Quang Nam Province interview with a travel agency in Hoi An. Nearly 1,000 students gathered at a tourism career orientation day in the city. — VNS
"They don't have any practical knowledge," said Nguyen Thi My Huong from Hoi An Express travel agency. "They're taught tourism theory and foreign language in college, but they have nowhere to practice."
Hoang Thi My Dung, a student at a Da Nang-based vocational training college, said she found a big difference between college classes and work at travel agencies.
"When I did training courses at travel agencies, I realized that we're not educated about anything we might encounter in real life," she said.
This point was emphasised by Le Tien Dung, chairman of the Quang Nam Tourism Association, when he spoke at a recent seminar attended by nearly 1,000 final-year students from 10 local educational institutions.
"Universities should improve their education to provide a better labour force for the tourism industry," he said. "Most travel agencies, hotels and resorts have to give refresher courses, which waste both time and money."
Home to world heritage sites Hoi An, My Son and Cham Island biosphere reserve, central Quang Nam Province offers many opportunities in the hospitality sector, said Dinh Hai, director of the province's department of culture, sports and tourism. The province hosted 2.8 million tourists last year, while the provincial tourism industry created 15,000 jobs.
Yet the Central region, which also includes major tourist destinations like Hue and Da Nang, has yet to launch an international standard hospitality workforce centre. And while professors and students frequently bemoan the fact that education is more theoretical than practical, little has been done to address this issue.
Nguyen Thi Huyen from the International Labour Organisation, which organised the event together with the culture, sports and tourism department of Quang Nam Province, said that universities and vocational training centres should "co-operate" with companies.
"Hospitality experts can lecture at universities, giving students real experience before they seek jobs at hotels or travel agencies," Huyen said.
Ho Thanh Minh, a teacher at a Chinese language centre, agreed, saying his years as a tour guide helped him instruct his students better.
"I had years of practicing as a guide, so I can provide my students with real knowledge and experience. I think universities and colleges should invite experts and senior staff to train students in kitchen skills, housekeeping, front desk and food and beverages," Minh said.
"That will provide students with the skills that employers are looking for."