Ninety percent of toxic waste discharged from manufacturing units and households is unmanageable and authorized organs do not know how to treat or dump it, said Associate Professor and Dr. Le Thanh Hai, deputy head of the Institute of Natural Resources and Environment at the Ho Cho Minh City National University.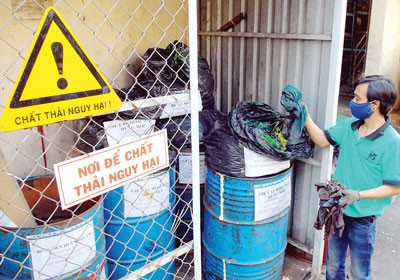 Toxic waste discharged from a production plant in HCMC (Photo: SGGP)
He was speaking at a seminar on the current status quo of toxic waste treatment in Vietnam on December 7.
He said that only toxic waste from the health sector is well managed and treated. Meanwhile authorized organs are in a quandary as to how to treat or dump 90 percent of the toxic waste coming from manufacturing units and households on a daily basis.
Nguyen Thanh Son, deputy director of the HCMC Urban Environment Company, said that Vietnam discharges about 150,000 tons of toxic waste in a year, of which 64 percent is from the southern region alone.
Of this 64 percent toxic waste, 50 percent is from Ho Chi Minh City.
The light industry is the biggest dumping source of industrial waste with 47 percent, followed by the chemical industry with 24 percent and metallurgy industry with 20 percent. The remaining toxic waste comes from health and agriculture sectors.
Under the current momentum of economic development, Vietnam is expected to release upto 35 million tons of waste by 2015, of which 22 percent will be toxic.