According to the Ministry of Health, 56 percent of hospitals in Vietnam do not have wastewater treatment systems while 70 percent of their current facilities do not even meet with national quality standards.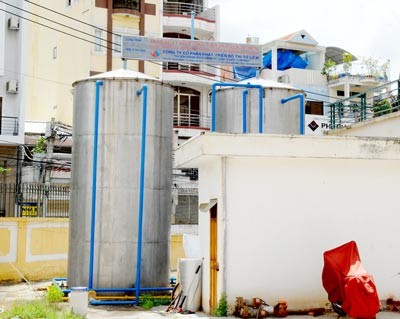 The wastewater treatment plant at the Pasteur Institute in Ho Chi Minh City (Photo: SGGP)
At present, Vietnam has 13,500 hospitals and health clinics that collectively discharge about 350 tons of solid waste and more than   150,000 cubic meters of wastewater a day.
Only 50 percent of the hospitals in Vietnam actually collect and recycle solid waste, while 73 percent of district and provincial hospitals do not even have the basic facilities to burn toxic waste.
As a result, the Ministry of Health has planned to implement a nationwide project for waste treatment in hospitals at a total investment of US$155 million.
The project is expected to complete by 2017, under which it will   build solid waste and wastewater treatment systems in at least 150 central and local hospitals. Training of human resources to operate these waste treatment facilities will also be provided as part of the project.