Most Vietnamese people don't pay attention to nutrition, says Nguyen Thi Lam, the deputy director of the National Institute of Nutrition.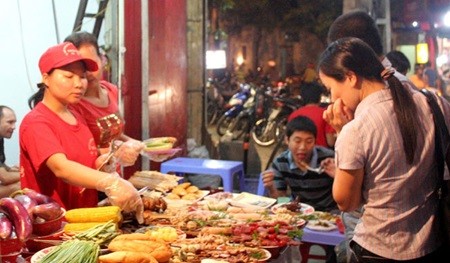 Street food in preparation in Hang Bong Street, Ha Noi. Most Vietnamese people don't pay attention to nutrition and have unbalanced meals. — VNS Photo Doan Tung
Nutrition awareness was lacking among people with low incomes and those who were better off, the rich often ate a lot of food but with little nutrition, while some children suffered from malnutrition and rickets because their mothers lacked the knowledge to raise their babies properly, she said.
A recent survey by the National Institute of Nutrition found people in the countryside consume 200 grams of vegetables a day on average, half of what the World Health Organisation recommend.
This figure was unchanged from 1985 when Viet Nam was short of a lot of foods, including vegetables.
Le Bach Mai, deputy director of the institute, said at a conference on food safety held in Ha Noi last week that the amount of starch consumed daily in Viet Nam had doubled in the past decade from 16 to 33 grams per person.
Vietnamese children often drank too many soft drinks and too much sweetened milk, she said.
A soft drink can contains 36-63 grams of sugar, while only 20 grams a day is recommended.
Too much sugar could increase tooth decay. While tooth decay could be cured, other diseases like metabolic disorders and diabetes were long term issues, she said.
Mai said 43 per cent of cancer cases in the country were related to food consumption. These include the consumption of unsafe food, poor nutrition and improper food processing.
Lam, the deputy director of National Institute of Nutrition, advised people to include protein, fat, minerals and vitamins in their diet. She said every person should eat between 15 and 20 different kinds of food a day to ensure they have enough nutrition.
Experts blame the low number of people eating vegetables on the fear that they are not safe.
Ha Noi currently produces about 40 per cent of the demand for vegetables and meat, the rest must be imported from other regions. The city consumes about 800-1,000 tonnes of fruit and vegetables per day and 1,000 tonnes of meat.
Meanwhile, inspections by Ha Noi Department of Agriculture and Rural Development on units that produce vegetables in Ha Noi's six districts found 36 cases violating regulations on safe vegetable production.
Nguyen Duy Thinh, from the Institute of Biotechnology and Food Technology under Ha Noi University of Technology, said many people often asked their relatives to bring food from the countryside as they believed the food was safer than what was available on the market.
Many farmers lacked the knowledge to properly use fertiliser, pesticides and growth stimulants, he said.
Deputy Prime Minister Vu Duc Dam confirmed the rampant use of chemicals in agricultural production at a meeting with representatives of foreign donors and organisations who aim to ensure food safety and hygiene in Viet Nam.
While visiting some suburban districts Dam discovered that many farmers have two separates areas for planting vegetables - one for sale to the market and the other for their own family.
According to Viet Nam Food Administration under the Ministry of Health, 3,100 people across the nation have suffered from food poisoning during the first seven months of this year. Among them, 19 people have died.
The number of food poisoning cases and fatalities has decreased compared with the same period last year, which recorded 98 cases and 26 fatalities.