As a safely measure, all helmets that do not meet new regulations on production, quality and safety will be seized and destroyed beginning Nov. 15. Helmets that meet the new standards will bear a criterion-referenced (CR) stamp instead of a criterion-standard (CS) stamp used currently.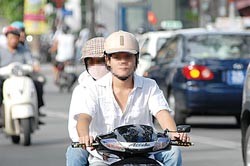 Motorcyclists wear modified helmets

Mr. Hoang Lam, deputy director of Quality Assurance and Testing Center 3, announced that all helmets produced locally or imported from foreign countries must meet new regulations on design, technical requirements and labeling. As a result, only helmets that obtain a national technical standard certificate will be put into circulation.

Locally-made helmets must have producers' labels that specify product name, the name and address of the factory, helmet size, production date and bear a CR stamp, said Mr. Lam. Likewise, all imported helmets must meet the same said criteria.

This is seen as a measure to eliminate small producers that produce poor-quality helmets. A survey conducted by the city's Standards - Consumer Protection Association found that 70 percent of helmets worn by motorcyclists do not meet safety standards.

Helmets produced before November 11 that have undergone quality checks and bear CS stamps may be put on the market. All poor quality helmets will be seized and destroyed.

Mr. Lam added that most helmets in the world have the same design and specifications. In Viet Nam, there recently appear helmets which are modified to suit with the weather conditions of a tropical country. Some of these helmets have a peak like a cap or with brim like hat. If these helmets meet with current or new regulations on production, quality and safety, they may be worn by motorcyclists when traveling on the streets.