Some 13 people were killed in a landslide after heavy rains in the mountainous provinces of central Vietnam November 5.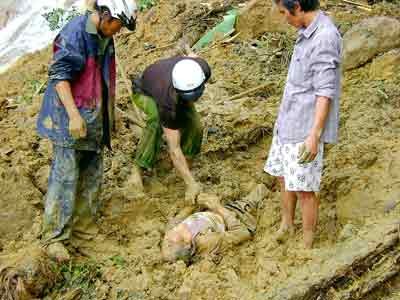 A victim is found in the debris of the landslide ( Photo: SGGP)
Due to the adverse affects of Typhoon Mirinae, the eleventh tropical storm to hit Vietnam this year, a severe mountain landslide killed 13 people and critically injured one in the central province of Quang Nam's Tra My District.
The landslide engulfed 14 people who were living in two huts at the foot of a mountain. Four of them were killed, including a married couple Do Phung Quang - Truong Thi Anh, Truong Van Dung and Vo Minh Vuong had lived there for five years and ran a breeding farm.
The landslide also destroyed the camp of nine gold miners from the northern province of Thanh Hoa, which had setup on the top of the mountain. None survived.
Relatives of the landslide victims had only their hands and weeding hoes and shovels to dig.
In an area of hundred square meters and the mass of soil and rock, digging with such basic equipment to find victims has proved to be very difficult.
Truong Van Nam, who was digging with his hands, burst into tears, saying it is impossible to find a body with just a hoe and shovel because the layers of cascading soil and rock covered was at least two meters deep.
He hoped the local government would provide machines to find his relatives so that he could bury them as soon as possible.
Meantime, Hoang Van Tung from Thanh Hoa Province, whose two brothers and wife had been engulfed in the landslide, sat dumbfounded watching three other friends digging.
Only two victims have been found so far.