During heavy rains, a big amount of soil and stone from Soi Mu Mountain fell into ĐT 618 Road to disconnect 1A Highway to Ky Ha Port, in the central province of Quang Nam on November 11 afternoon.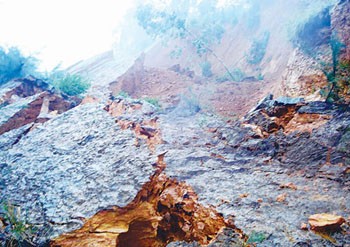 Mountain landslide cuts off traffic on D9T618 Road in Tam Quang Commune, Nui Thanh District, Quang Nam Province on November 11 (Photo: SGGP)
A 100 meter stretch of the road was covered under two to ten meters of soil and stone, estimated at over 3,000 cubic meters in Tam Quang Commune, Nui Thanh District.
The commune official Le Tan Quang told the landslide buried him while he was travelling by motorcycle on the road at that time. Fortunately, he was just slightly injured.
The same day in Tay Tra District, traffic on Tra Trung – Di Lang Road was blocked with over 200 cubic meters falling down from a nearby mountain . The landslide also occurred in some spots of the provincial highway 622B, section across the district.
Several other roads in the district were also severely masked with hundreds cubic meters of soil and stone.
Thanh Nien Newspaper reported in Nam Tra My District, downpours caused a hill landslide, falling in a resident's home and creating traffic standstill in several roads from the district center to its communes.