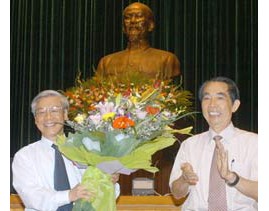 Mr. Nguyen Phu Trong (L), who is re-elected NA chairman on July 23, receives flowers from the deputy chairman of the 11th National Assembly
The 12th National Assembly began its second working week today. Mr. Nguyen Phu Trong, chairman of the 11th National Assembly, was re-elected chairman this morning.
The NA deputies chose the four vice chairpersons for the 12th National Assembly - Nguyen Duc Kien, Uong Chu Luu, Tong Thi Phong and Huynh Ngoc Son - along with 18 people for the NA Standing Committee, whose members include the NA chairman and the four vice chairpersons.
In a speech, Chairman Trong said he would work closely with Viet Nam's President, Prime Minister, Supreme People's Court, Supreme People's Procuracy and Fatherland Front Central Committee, as well as the NA agencies and the other deputies.
Mr. Trong later read out a list of candidates for the position of President of State, and recommended Mr. Nguyen Minh Triet be chosen again. The NA will vote on it tomorrow.