Multilateral diplomacy forms an important part of Vietnam's policy on external relations and international integration, said Prime Minister Nguyen Tan Dung at a multilateral diplomacy conference which opened in Hanoi on August 12.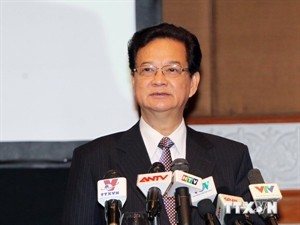 PM Dung speaks at the conference (Photo: VNA)
The government leader said multilateral diplomacy is an effective way to carry out Vietnam's foreign policy of independence, self-reliance, multilateralism, diversification and international integration.
Multilateral institutions and forums are platforms for the country to protect and promote security and development interests; join hands with the international community to deal with global challenges; and build equal and mutually beneficiary partnerships, he added.
PM Dung highlighted the importance of the role and the voice of multilateral institutions and forums, especially the United Nations, ASEAN, and the Non-Aligned Movement, in the country's cause of safeguarding national sovereignty.
The international community's solidarity and support at multilateral forums have helped uphold Vietnam's stance of solving disputes through peaceful measures in line with international law and conduct principles, he noted.
The leader asked participants at the conference to find out substantive measures to help Vietnam boost multilateral diplomacy so as to serve the national development, and expressed hope for more assistance from regional and international organisations to the country.
The first conference on multilateral diplomacy was also attended by Deputy Prime Minister and Foreign Minister Pham Binh Minh, former Director General of the World Trade Organisation Pascal Lamy, former United Nations Under-Secretary General Jayantha Dhanapala and former Singaporean Foreign Minister George Yeo, along with some 200 delegates from Vietnam and other countries.
Participants are expected to review the country's achievements over the past three decades of expanding multilateral external relations and discuss the implementation of this policy in the coming time.
The event will include discussions on such issues as major trends of multilateral diplomacy in the 21st century, multilateral cooperation in promoting sustainable development, multilateral trade system, policies suggestions for Vietnam and ASEAN, and Vietnam's international economic integration.