The Viet Nam Musicians' Association was awarded the Gold Star Order; the highest distinction bestowed by the Vietnamese Party and Government at a ceremony to mark the Association's 50th anniversary in Ha Noi yesterday.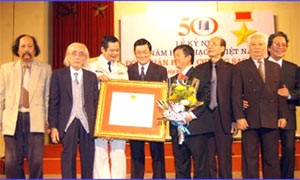 Truong Tan Sang, Politburo member and Permanent member of Secretariat (fourth from left) awards the Gold Star Order to representatives of the Viet Nam Musicians' Association
At the ceremony, composer Do Hoang Quan, the Association's president, reviewed the achievements in the development of the association since it was established in December 1957. 
 
The association's membership has grown to 1,000 members with 20 sub-associations nationwide from its inception 50 years ago.
 
"Vietnamese music was a tremendous moral support for the army and the Vietnamese people to facilitate their victories during the country's historic stages" Mr. Quan said.
 
During the last half century, many musicians of the association have been awarded with noble distinctions by the Party and Government, including the Independence Order, the First Class, the Ho Chi Minh Order and the Labor Order.
 
Addressing the meeting, Truong Tan Sang, Politburo member and Permanent member of Secretariat, praised Vietnamese musicians and artists for their glorious contributions to the national culture.
 
"The Viet Nam Musicians' Association is a communal home for all people engaged in the music field throughout the country's history during the past 50 years," Mr. Sang said.
 
He said music had played an important role during war times in Viet Nam. "Vietnamese music has become a sharp weapon used during the people's struggle," he added.
 
On this occasion, the Vietnam Music Copyright Center received a certificate of merit by the Prime Minister, and the Association awarded the certificate of merit and badges of 50-year-old membership to 35 composers.
 
The ceremony was attended by many senior Party and Government officials, including Secretary of the Party Central Committee To Huy Rua, Chairman of the Viet Nam Fatherland Front Pham The Duyet and Minister of Culture, Sports and Tourism, Hoang Tuan Anh, and hundreds of composers and artists thorough out the country.