The National Assembly adopted a resolution on the socioeconomic development plan for 2010 November 6, with the goal of gross domestic product (GDP) growth set at 6.5 percent.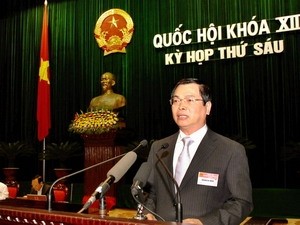 Industry and Trade Minister Vu Huy Hoang speaks at a National Assembly session on November 6
The resolution centers on economic recovery, macro economic stability, the avoidance of high inflation, social security, better effective international cooperation, political stability, and consolidated national defense and security.
 
Major goals set by the resolution include an increase in the consumer price index (CPI) of not more than seven percent in comparison to 2009, an over six percent raise in export turnover, and around 1.6 million new jobs, including sending 85,000 workers abroad.
 
The resolution also plans to boost the rates of access to clean water for the rural and urban populations to 83 percent and 84 percent, respectively, as well as increase forest coverage to 40 percent.
NA deputies also agreed with the Government's ambition to reduce poverty to less than 10 percent of all households, universalize junior secondary education nationwide, and reduce malnutrition among under-fives to less than 18 percent.
 
The resolution says management of implementation of social welfare policies will be tightened to ensure that all eligible people can enjoy the policies, and measures will be taken to boost production and increase people's incomes and so help improve their lives.
 
The resolution also focuses on tighter control of imports of non-essential goods to minimize the trade gap, optimal exploitation and development of the local market, and encouragement of buying Vietnamese goods.
 
On the same day, deputies heard reports about the Dung Quat oil refinery project and plans to invest in two projects: the Lai Chau hydroelectric power plant and the Ninh Thuan nuclear power plant.
Construction of the refinery is now fundamentally completed, Industry and Trade Minister Vu Huy Hoang said, adding that the plant produced 39,000 tons of LPG, more than 198,000 tons of unleaded petrol, 142,000 tons of diesel, and 30,000 tons of kerosene, as of August 15.
The Son La hydropower plant project is also on track to put one generator online to produce electricity in December next year, with the project expected to be fully completed two years later.