The National Assembly (NA) continued its second day of Q&A sessions yesterday, with all cabinet members attending the event for the first time.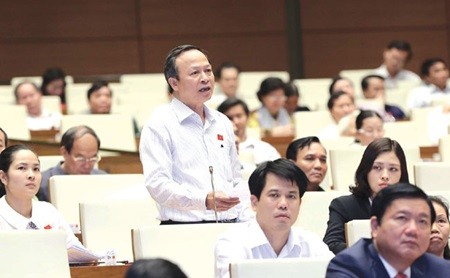 NA deputy Le Dinh Khanh from Hai Duong (standing) questions the Goverment's cabinet during the NA meeting. (Photo: VNA/VNS)
Deputies questioned Government representatives on topical issues including administrative reform, corruption, real estate market restructuring, social security and promotion of Government officials.
Deputy Nguyen Ba Thuyen from the Central Highlands province of Lam Dong said there was a big gap between theory and reality when implementing administrative reform.
Deputy Prime Minister Nguyen Xuan Phuc said he agreed with this. The discrepancy was very relevant, and had caused major inconveniences for residents and businesses dealing with administrative procedures.
The deputy PM said administrative reform in institutions, Government apparatuses, procedures and public finance in the past year had made significant progress – particularly ensuring better transparency, meeting social demands from residents, and creating a more progressive environment for the business sector.
Administrative procedures had improved, especially in tax collection, land management, custom services and social insurance, Phuc said.
However, the deputy PM admitted that the comprehensive goal would not be achievable, due to a gap between theory and reality that was present during the reform planning process.
To solve the problem, Phuc said a synchronised measure needed to be used to cut down on Government staff, including firing unqualified officials in the State system.
He reported that the Government this year had instructed drastic Government staff cuts at administrative offices.
About 3,300 Government positions had been streamlined, including 2,700 early retirements and 600 who agreed to leave, Phuc said.
TPP competition
Industry and Trade Minister Vu Huy Hoang started the afternoon session answering queries on the competitiveness of goods made in Viet Nam – especially garment products – in relation to the Trans-Pacific Partnership (TPP) agreement.
During negotiations on free trade agreements (FTAs) and the TPP, the Government had asked the Industry and Trade Ministry to negotiate with partners to open their markets to Vietnamese goods that are competitive, including garments, Hoang said.
"Basically, this requirement had been reached in FTAs with South Korea, the EU and the TPP," he added. "However, in the long term, the garment businesses must improve their capacity in order to play well on the 'international playground.'"
Hoang also answered questions about Dinh Vu Fibre Production Plant, Thai Nguyen Steel Plant, controlling multi-level marketing businesses and the fight against fake and low-quality products.
The Dinh Vu Fibre Production Plant project was put into operation in 2014 at 40 per cent capacity.
In 2004, the plant lost VND1 trillion (US$45.4 million). The operation costs and the reduction in the world price of synthetic fibre made the plant's products less competitive in price.
So far, the ministry has asked the Viet Nam Textile and Garment Group to buy the plant's products.
International integration
Answering questions about Viet Nam's preparedness for international integration, Deputy Prime Minister Hoang Trung Hai affirmed that the Government had issued several decrees instructing ministries and relevant agencies to set up plans of action for when the country joins international economic blocs and trade agreements.
Ministries were asked to co-operate with businesses, production sectors and associations to draw up appropriate roadmaps for products that would face bigger challenges, Hai said.
The NA and Government had adjusted many laws and legal documents to fit international rules. In fact, Viet Nam had been hailed among the countries best prepared for international integration.
However, the biggest foreseeable challenge for the economy was the low competitiveness of products made in Viet Nam, which would lead to a high rate of unemployment.
In terms of food safety, Deputy Prime Minister Vu Duc Dam said ministries and relevant agencies had co-operated well and made concerted efforts to deal with the issue.
However, they had a long way to go before meeting the Government's and people's requirements, Dam said.
"The Government has promulgated several legal documents and measures to address the problem, but to effectively control food safety, professional, ethical practices are needed from businesses and people involved in food production, processing and trading," Dam said.
Q&A satisfaction
The unprecedented Q&A session was broadcast live. Initially, deputies said they appreciated it as one of the legislature's greater efforts to renew and increase the efficiency of its operations.
On the sidelines of the event, deputies showed their satisfaction with the reports from the Government officials, and several ministry and sector heads.
Deputy Do Van Ve from the northern province of Thai Binh said that the renewal of the Q&A session would help NA deputies and people nationwide understand more about ministers' and Cabinet members' efforts to address Government weaknesses.
The Q&A was a good way to re-evaluate issues discussed at previous sessions and those that had yet to be addressed, said deputy Tran Ngoc Vinh from the northern city of Hai Phong.
"The Government openly admitted its responsibility," Vinh said. "I feel relatively satisfied with the reports."
The Q&A session is scheduled to last two and a half days.
Prime Minister Nguyen Tan Dung will have 75 minutes to answer questions on the last day of the session this morning.