Preliminary statistics show that after the third consultation round, provinces and cities nationwide selected 832 out of 1,085 candidates for the official list of candidates to run for the 13th National Assembly.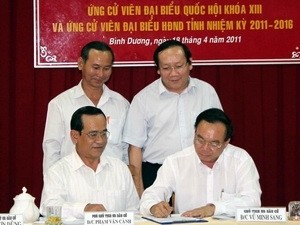 Official list of candidates for the 13th National Assembly handed over in Binh Duong (Source: VNA)
Nguyen Ngoc Dinh, Head of the Vietnam Fatherland Front (VFF) Central Committee's Democracy and Law Department, said on April 20 that among the selected candidates, women account for more than 30 percent; non-Party people over 15 percent; ethnic minority people, 15 percent; and young people, over 20 percent.
Mr. Dinh said that 15 out of 83 self-nominated candidates in the country were included in the official list, including four in Hanoi and four in Ho Chi Minh City .
Most self-nominated candidates are businessmen, including young people, he added.
As scheduled, April 27 will be the deadline for announcing the official lists of candidates at each constituency.
Between May 3-18, the VFF will hold meetings between NA candidates and voters in order to enable the candidates to electioneer, Mr. Dinh said.