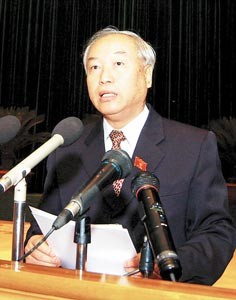 Mr. Nguyen Van An delivers his opening speech
National Assembly Chairman Nguyen Van An delivered his opening speech at the ninth NA sitting starting on May 16, calling on NA deputies to give as many constructive ideas as possible during the eight-week session.
He stressed the sitting's four major tasks. The first is to review the Government report on socio-economic development tasks between 2006 and 2010; the country's plans of land use in these five years and discuss the State budget.
The second is law making. The NA will pass 10 bills, and discuss 13 other bills and laws in preparation for the next sitting. The legislators will also discuss different resolutions.
Third, the NA will hear reports on the supervision of several issues and the settlement of voters' petitions and answers to NA deputies' queries.
Fourth, the NA will decide personnel matters.
Related article: National Assembly Starts 8-Week Sitting