NA Chairman Nguyen Phu Trong has asked the Mekong Delta province of Kien Giang to make sure everything is ready for the upcoming May 20 National Assembly (NA) elections during his inspection tour to the province on Monday.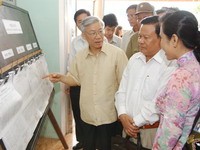 NA Chairman Nguyen Phu Trong (L) makes an inspection tour to Kien Giang Province on May 7  

"There is not much time left and this is a very important time for us to ensure that everything goes smoothly for the upcoming elections," the NA Chairman noted.

He went on to suggest that Kien Giang continue to organize public meetings between NA candidates and voters to aid constituents in understanding the demands of the polling process and their candidates' political platforms.

Kien Giang will select eight seats from a candidate list of 14 people standing for the upcoming polls.

Of the candidates, 36.36 percent are women, 27.27 percent are under 40 years old, 18.18 percent are Khmer ethnic people and over 81 percent are graduate and post-graduate degree holders.