St Petersburg city will to cooperate with the National Assembly (NA) and local governments of Vietnam in economy, culture, education, tourism, and contribute to comprehensive strategic cooperation partnership between Russia and Vietnam, said Acting Chairman of the Legislative Council of S.Petersburg S.A. Andenko in a meeting with NA Chairman Nguyen Sinh Hung.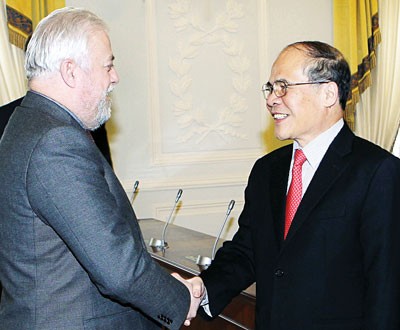 NA chairman Nguyen Sinh Hung shakes hands with Mr. S.A. Andenko during their meeting in S.Petersburg on March 10.
Mr. Nguyen Sinh Hung talked with Mr. S.A. Andenko on March 10 during his official visit to Russia.

Speaking at the meeting, the NA Chairman affirmed that the visit of the NA high-level delegation aims at strengthening traditional relationship between the two nations.

"Russia is one of the most important partners in foreign policy of Vietnam', said the NA Chairman.

"The two strategic partners have achieved successes and the two nations are trying to promote more cooperation, meeting demands of development in bilateral relations", added the NA Chairman.

Besides, Chairman Hung suggested the Legislation Council of S. Petersburg City to continue intensifying more exchange and cooperation with the NA and local people's councils in Vietnam including preservation, promotion of cultural value, and exploration of tourism potential...

Expressing pleasure to welcome the NA Chairman and the NA high-level delegation, Mr. S.A. Andenko stressed that Vietnam and the former Soviet Union (Russia today) had a long standing traditional friendship.

"S. Petersburg city has been honoured to receive many Vietnamese delegations in current years", said Mr. Andenko.

"The city is also building a cooperation agreement with Hanoi", added Mr. Andenko.

On the same day, Chairman Nguyen Sinh Hung and the delegation visited the Winter Palace before they left St. Petersburg to Moscow.