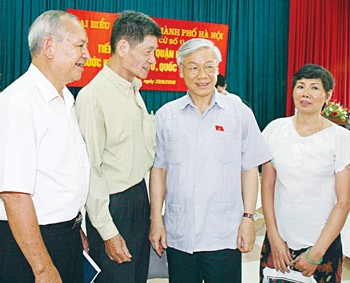 Mr Phu Trong (M) meets with voters in Ba Dinh -Ha Noi

National Assembly Chairman Nguyen Phu Trong held a meeting with voters from Hanoi's Ba Dinh and Cau Giay districts on Sept. 29 as part of his preparations for the fourth session of the 12th NA.


Regarding many voters' concern about the land management and use, the NA Chairman said that during the process of industrialisation and modernisation, it is necessary for certain areas of land to be restructured in order to meet targets relating to industrial development.
He also stressed that any transfer of land must be made in accordance with the city's planning and laws and harmonize the interests of the State, investors and farmers whose land is requisitioned.
The plans and construction of a public library and green parks at 42 Nha Chung Str. and 178 Nguyen Luong Bang Str. were acclaimed by the voters who agreed that the plans reflect the State's consistent policy that land is public property.
Many voters also raised their concerns about the execution of the law. According to them, a number of laws have been promulgated and come into effect but not become common knowledge amongst the people due to ineffective publicity.
The NA Chairman took note of the voters' constructive suggestions regarding the Party and State's management work, thus contributing to national construction and development.
He also provided answers to voters' queries about other issues relating to religion, anti-corruption measures, educational development and investment