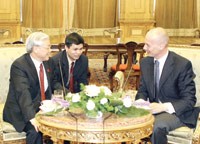 NA Chairman Nguyen Phu Trong talks with President of the Romanian Chamber of Deputies Bogdan Olteanu in Bucharest Wednesday

National Assembly Chairman Nguyen Phu Trong proposed bolstering legislative co-operation to contribute to furthering the relationship between Viet Nam and Romania.
Chairman Trong made the proposal at his talks with President of the Romanian Chamber of Deputies Bogdan Olteanu in Bucharest on Wednesday (June 18) following a welcome ceremony given to him on his official visit to the European country.
The Vietnamese legislative leader underlined the increase in the exchange of visits and the sharing of law-making experiences between the two countries' legislative organs as measures to promote bilateral legislative ties.
He said he was pleased with the two countries' time-honoured traditional relationship that is growing in a wide range of fields, particularly politics, culture, education and science, and believed his visit would further strengthen the bilateral ties.
The Vietnamese NA Chairman congratulated Romania for its European Union membership, considering this as an important factor assisting the development of the Viet Nam-Romania relationship in a new period.
For his part, Bogdan Olteanu said accelerating economic co-operation and expanding trade ties to tap potentials and advantages of Romania and Viet Nam for both sides' interests should be given top priority by both countries.
" Romania wants to broaden co-operation with Viet Nam and will always support Viet Nam in its relationship with the European Union members," the Romanian leader said.
He highlighted the role and active contributions to the development of the Romania-Viet Nam relations by the Vietnamese community in Romania, suggesting the two countries should increase the exchange of scholarships for students, considering this an important co-operative field that would give a momentum for bilateral co-operation in other fields.
The President affirmed that the Romanian Chamber of Deputies welcomed co-operation with the Viet Nam National Assembly in law-making programmes and it was willing to send experts to help Viet Nam in this domain.
After the talks, the two legislative leaders witnessed the signing of a co-operation agreement between the two parliamentary offices by Director of the Viet Nam National Assembly Office Tran Dinh Dan and Secretary General of the Romanian Chamber of Deputies Titu Gheorghiof.
The agreement defines the further exchange of experiences, information and working skills between the two legislative bodies.
Chairman Trong attended the Viet Nam-Romania Business Forum where he said the economic, trade and investment co-operation between the two countries remained modest in comparison with their political ties and potentials.
Chairman Trong noted on the prospect for the two countries to tap their potentials for mutual development, citing Viet Nam's strength in farm produce, garment and textiles and footwear and Romania's advantages in oil refinery industry, construction and sea ports.
He highly appreciated businesspeople's role in promoting economic, trade and investment ties between the two countries, and drew Romanian businesses' attention to Viet Nam, a safe and favourable destination for investments.
At the forum, the Vietnamese Chamber of Commerce and Industry signed with the Romanian Chamber of Commerce and Industry a co-operation agreement on support for the two countries' businesses to seek economic and investment co-operation opportunities