The National Assembly of Vietnam is ready to collaborate with the Danish legislative body in all fields, contributing to strengthening cooperation between the two governments and people.

NA Chairman Nguyen Sinh Hung made the remarks during his talks with President of the Danish Parliament Mogens Lykketoft in Hanoi on March 5, after a welcoming ceremony.

Hung said he believes that Lykketoft's visit will make important contributions to strengthening and lifting the two countries' traditional friendship to a new height as well as further fostering the cooperation between the two legislatures.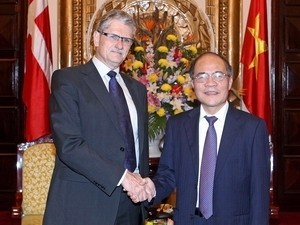 NA Chairman Nguyen Sinh Hung (R) talks with President of the Danish Parliament Mogens Lykketoft
He affirmed that Vietnam wishes to deepen its relationship with Denmark, making it more practical, sustainable and effective and meeting the desires of the two peoples.

The NA Chairman also expressed thanks to Denmark's support to Vietnam, especially in poverty reduction and environmental protection.

In this spirit, Hung called on Denmark to push up its assistance to Vietnam in education, health care, poverty reduction as well as increase bilateral trade value to greater than 421 million USD, as at present.

Chairman Hung said he hopes the two sides will further cooperate in the development of the energy industry, wind power and coping with climate change, as Vietnam is one of the three countries suffering the most from the impacts of climate change.

Hung also suggested the two Inter-governmental committees perform more actively to continue to improve the use of Denmark 's official development assistance capital, as well as strengthen joint programmes and projects.

He also proposed the two legislatures intensify the exchanges of delegations at all levels which will help strengthen mutual understanding and boost experience sharing in lawmaking and supervision.

The two sides should exchange views on regional and international issues of common concern, making contributions to promoting people-to-people diplomacy, cultural exchanges, Hung said.

Particularly, the two sides should soon negotiate and sign a joint cooperative agreement.

Regarding Vietnam-EU relations, Hung affirmed that Vietnam has a close, effective and comprehensive cooperation with the EU.

He added that the two sides are making efforts to soon officially sign a Comprehensive Partnership and Cooperation Agreement.

While speaking highly of the roles of EU member parliaments, Hung also asked Lykketoft for his support so that the agreement will be signed promptly, creating favourable conditions to promote cooperation between Vietnam and European countries.

Chairman Hung affirmed that Vietnam is willing to act as a partner to enhance cooperation between Southeast Asian nations and European countries.

On this occasion, Hung also expressed his wish that the Danish Parliament will support and help improve relations between the Vietnamese National Assembly and EU parliament, facilitating the Vietnam-EU relationship.

For his part, Lykketoft expressed his delight at Vietnam's achievements in national construction and development, noting that there is great potential for Vietnam and Denmark to cooperate in the fields of trade, investment, education and scientific research.

He said he always supports and contributes to cooperative relations between Denmark and Vietnam, affirming that his visit presents the expectation of the Danish Parliament, Government and people in tightening ties with Vietnam in all fields.

Mogens Lykketoft highly valued Vietnam in effectively using Denmark's assistance in its national development process, adding that the Danish Parliament and Government always encourages its businesses to invest into Vietnam, contributing to further strengthening the friendship between the two countries and peoples.

On the occasion, Mogens Lykketoft invited Hung to visit Denmark in the near future.

The same day, Prime Minister Nguyen Tan Dung also had a meeting with Lykketoft in Hanoi.

PM Dung spoke highly of working results between the Danish guest and National Assembly Chairman Nguyen Sinh Hung, saying that the visit will contribute to developing Vietnam-Denmark relations in all fields.

Lykketoft affirmed that Denmark will continue to provide Vietnam with official development assistance capital until 2015. He expressed his hope that Vietnam's National Assembly and Denmark's Parliament will further promote cooperation and experience sharing in judicial reform in the future./