National Assembly (NA) deputies discussed three national projects, including two large hydroelectric plants, and three bills at their ongoing session in Hanoi November 7.
Most deputies paid special attention to environmental impact assessments and the relocation of people in the areas of the projects.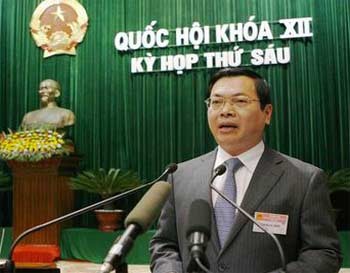 Industry and Trade Minister Vu Huy Hoang speaks at the NA session on November 7, which focused on national projects and three bills (Photo: Chinhphu.vn)
Nguyen Viet Dung, of Ho Chi Minh City, asked the Government to report to the NA solutions to be taken to ensure the absolute safety in the development of the two hydroelectric plants in Lai Chau and Son La Province, and the nuclear power plant in Ninh Thuan.
"Safety for the projects must be considered carefully, especially in areas vulnerable to storms, floods or earthquakes, to assess their impacts on ecosystems, including water sources," Dang Van Khanh, of Hanoi, said.
Most deputies added the operation of these plants must be suitable for irrigation works.
Tran Dong A, of HCM City, said external relations must be taken into account in the course of construction on the Da River, since it stemmed from Laos.
Personnel training should also be paid attention to in order to meet the development of these projects, he added.
Nguyen Duc Kien, of Soc Trang, suggested that the Ninh Thuan nuclear power plant and the Da Lat Nuclear Research Institute be combined to step up nuclear research and development, and boost human resource training for the nuclear sector.
Most deputies demanded that supervision over relocation be carried out as soon as the projects start.
 
The local authorities must provide all necessary aspects for daily living, as well as livelihoods for relocated people, not just giving them a shelter and rice, said Giang Bao My, of Lai Chau Province.
She attached great significance to the Lai Chau hydroelectric project, considering it a chance for the province to improve its socio-economic conditions, including infrastructure.
As many as over 1,300 households in Lai Chau will be dislocated, so issues related to their resettlement must be paid due attention, said Nguyen Dang Kinh, of Hanoi.
Complaining that previous projects were not really supervised well, he also called for a tightened supervision by the NA over the progress of three projects to ensure an efficient use of investment capital.
NA deputies also discussed the bills on Efficient Use of Energy, Execution of Criminal Sanctions, and Commercial Arbitration.
The meeting heard a report by the chairman of the NA's Committee for Science, Technology and Environment, Dang Vu Minh, in which he said the Efficient Use of Energy bill would help improve the effective use of energy, protect the environment and boost socio-economic development.
The bill includes provisions on incentives in tax and credits for organizations or individuals that develop projects that are environmentally friendly, energy-saving and high productive, the meeting was told.
Deputies also voiced opinions about the Execution of Criminal Sanctions bill, in which the Ministry of Public Security is assigned to assist the Government in control over the execution of criminal verdicts to ensure strictness and transparency of the Penal Code.
By yesterday noon, about 240 queries were sent to Government members on various issues, which will be answered within in three days starting November 17.