Economic targets are high on the agenda of the National Assembly meeting which kicked off on Monday with Prime Minister Nguyen Tan Dung expected to report on 2007 socio-economic outcomes and 2008 plans.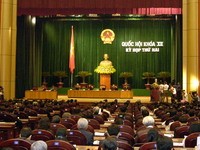 The National Assembly's 2nd session opens on Oct 22 in Ha Noi 
In his opening speech, National Assembly Chairman Nguyen Phu Trong said the targets and outcomes for discussion include the 2007 State budget balance and the 2008 State budget estimates and allocations.

Law makers will also hear reports from the Supreme People's Court Chief Judge and the Supreme People's Procuracy Director.

Other reports will include court verdict enforcement, crime control and prevention, issuing land use right certificates and solutions to citizen's petitions and complaints.

The session will also hold hearings.

Seven legal bills, expected to be cleared by the legislative body, cover individual income tax, product quality, family violence, contagious disease control, chemicals, amnesty to inmates and legal support.

A resolution on a law making roadmap for the 12th legislature and 2008 will also be likely to be decided.

Law makers will also consider bills regarding taxes on compulsory sales and the hand-over of individual's or organization's property, atomic energy, Red Cross operations, public property management and use, and the issuing of legal documents.