Most NA deputies said the Bill on Consumer Protection would not adequately safeguard the rights and interests of consumers; many demanded revisions to that most of the bill's provisions.
Discussing the bill at the June 9 meeting of the seventh session of the NA in Hanoi, many deputies said while consumers have been suffering from significant quotients of trade fraud, counterfeit currency, contraband goods and poor-quality commodities.  The bill, labeled unfeasible and ineffective, does not deal with these issues sufficiently.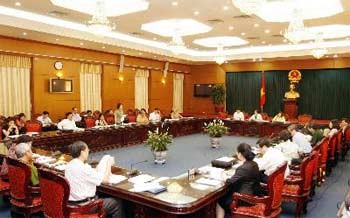 NA delegations of Hanoi, Hai Phong, Thanh Hoa and Dak Lak discuss the Bill on Consumer Protection in Hanoi June 9 (Photo: VNA) 
The bill stipulates that contracts, in due form, must be obtained by consumers when they buy goods if they want their investment protected afterwards. This is unreasonable and unpractical, said deputy Nguyen Thi Nguyet Huong.
For instance, when consumers purchase goods low in value, such as vegetables, at markets, it is unnecessary and inconvenient to mandate such a contract between sellers and buyers.
Le Quang Binh from Thanh Hoa Province pointed out that many provisions of the bill are redundant, since their content already exists within current law, such as the Civil Code and Civil Procedure Code.
Meanwhile, the bill has no specific regulations on who will take responsibility for consumer protections, he said.
"The bill only provides general provisions on the society's responsibility in protecting consumers. With such provisions, it is likely that consumers will not be protected at all," he said.
Deputy Binh said the bill must be revised drastically, adding that as much as three-fourths of the bill's provisions ought be either amended or crossed out.
Tran Dinh Long from Dak Lak Province said, "Ultimately, the responsibility for protecting consumers belongs to the State, not consumers' protection associations, whose role is given prominence in the bill."
These associations are social organizations, so their operations are not supported by the State budget, Ms. Huong said. 
Of the same view, Vo Tuan Nhan from Quang Ngai Province said many consumers' protection associations are operating ineffectively, due mainly to their insufficient personnel and poor financial capabilities.
"An association of this kind in Cao Bang Province is operating with a budget of just VND30 million (US$1,580) a year. What can they do with such modest financial resources?"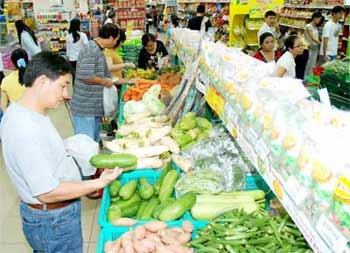 Shoppers at a supermarket in HCMC. Many NA deputies disparaged the Bill on Consumer Protection, saying it would not function effectively (Photo: SGGP)
Therefore, in order to protect consumers efficiently, such associations cannot help much, he said.
"There must be specific provisions on what and how the State should do to protect consumers," Mr. Long explained.
For instance, he said, to prevent trade fraud, State agencies concerned can arrange standard scales at markets, supermarkets, or trade center so that consumers can check the weigh of goods they have bought.
Such places should have a board that can immediately handle any complaints lodged by consumers, he added. 
Many deputies disagreed to a proposed regulation that after receiving consumers' complaints, consumers' protection associations would have to notify the alleged violators twice, with an interval of one month, and have the complaints published on central-run newspapers in three consecutive editions before legal action could be taken against the alleged violators.
These burdensome regulations only cause difficulties to consumers when they want to protect their legitimate rights and interests, they said.
In general, most deputies demanded that the bill be re-drafted for the sake of consumers.
Two ministers to reply questions before NA

Today, June 10, the National Assembly will hear two ministers answer queries from NA deputies.

Finance Minister Vu Van Ninh will reply to questions related to State budget revenue and spending, tax evasion, tax debt, inflation restriction, and prevention of risks to national debt.

Transport Minister Ho Nghia Dung, meanwhile, will answer queries regarding the State management of construction of traffic development projects, prevention of waste and loss in traffic projects, as well as safety and quality issues therein.