Violations in farm and forestry land use are still common across the country in 2015, said the chairman of the National Assembly Council of Ethnic Affairs, Ksor Phuoc, yesterday in a NA session.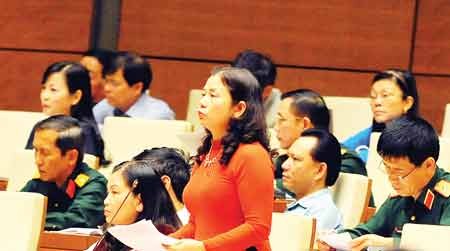 Deputy Le Thi Nguyet from Vinh Phuc Province makes a statement at the NA session on November 11 (Photo: SGGP)
According to the Government's report, the area of forestry land being illegally encroached upon reached nearly 60,000 ha.
Violations include illegally allocating land to individuals who are not directly involved in agriculture and forestry production and not fulfilling financial duties, the report said.
Deputy Cao Thi Xuan from Thanh Hoa Province confirmed the situation.
"Loose management in many farms and forestry lands resulted in individuals being able to easily use and transfer land for inappropriate purposes like building residential houses," she said.
Meanwhile, deputy Nguyen Thi Hai from Nghe An province added that conflicts occurred very often between local residents and forestry companies.
"While residents lack productive land, forestry companies abandon their allocated land. This seriously affects people's lives and reduces production opportunities," she said.
Deputy Truong Van Vo from Dong Nai Province said in order to address the problem, stricter management is essential.
"If loose management continues, violations will go on. We need to have independent experts re-examine every three or six months with companies that are allocated with forestry land. Allocation of land must be done based on sustainable development," he said.
The report on evaluating farm and forestry lands usage by the NA Council of Ethnic Affairs said rearrangement of forestry companies had been conducted since 2005. From 256 forestries, the country now has 151 companies in the forestry sector.
However, the report also said that the rearrangement was conducted only in a formal manner.
"Management was not really effective," the report said.
6.7% GDP growth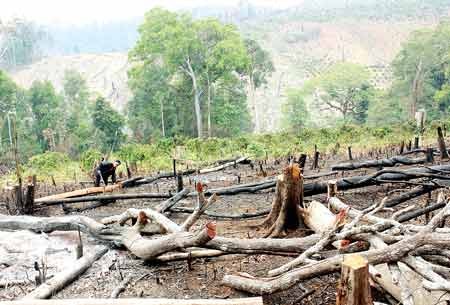 A devastated protective forest under management of Nghia Tin forestry enterprise in Gia Nghia town, Dak Nong province in the Central Highlands (Photo: SGGP)
The National Assembly yesterday approved a resolution on the socio-economic development plan for 2016, which sets the goal of a 6.7 per cent increase in gross domestic product (GDP).
Maintaining macro-economic stability, striving for a higher economic growth rate, and improving growth quality for sustainable development continue to be the main targets for next year.
The National Assembly urges accelerating the implementation of strategic breakthroughs and economic restructuring in line with growth model renovation, while continuing to improve living conditions and social welfare.
Other goals set by the resolution include keeping consumer price index growth below 5 per cent while increasing the import-export trade by 10 per cent with the trade deficit of below 5 per cent.
Total social development investment should be equal to 31 per cent of GDP, and the rate of energy consumption per one GDP unit should be cut by 1.5 per cent compared to the figure in 2015.
The rate of household poverty according to multi-dimensional poverty standards is expected to decrease by 1.3 per cent to 1.5 per cent, while the urban unemployment rate will be kept under 4 per cent and the skilled labour rate be raised to 53 per cent.
Health insurance coverage will be 76 per cent, the forest coverage - 41 per cent, and 85 per cent of the industrial and processing zones should have environmentally-friendly wastewater treatment systems.