The quality of traffic works, traffic jams and traffic safety as well as the Hanoi-Ho Chi Minh City express railway project were major concerns of NA deputies at a Q&A session for Minister of Transport Ho Nghia Dung in Hanoi on June 10.
Answering NA deputies' queries, Dung admitted his ministry's responsibility for the bad quality of several traffic works, saying they lack coordination and resolution in management.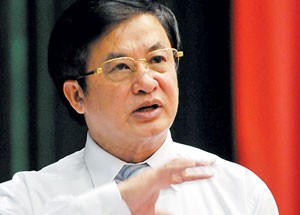 Minister of Transport Ho Nghia Dung gestures during a Q&A session in Hanoi on June 10. (Photo: SGGP)
He put forth solutions for this issue by allocating specific tasks to corporations, relevant agencies and localities.
Many deputies were especially worried about continuous traffic jams in big cities like Hanoi and Ho Chi Minh City as well as increasing traffic accidents in recent time.
They were not satisfied with Minister Dung's answer that the numbers of cases and people died of accidents have reduced over the past years.
According to Dung, the number of accident casualties in Hanoi decreased nearly 12 percent in 2008, nearly 1 percent in 2009 and almost 4 percent in the first four months of this year.
However, he acknowledged that traffic accidents remain a threat to the sustainable development of the country, saying his ministry will continue to take further measures to address the issue.
Minister of Public Security Le Hong Anh added that illegal motor races have remarkably dropped in recent years and specially, the organised motor racing has been regularly and timely prevented. Violations of safety corridors along roadsides have been strictly treated, he said.
Regarding the Hanoi-Ho Chi Minh City express railway project, Dung said that as the project is being considered by the NA, no specific partners have been chosen for the project.
Only when getting the NA approval, the ministry will discuss the sponsorship for the project, he said, adding that any business that has suitable technologies and sufficient capital may participate in the project.
Concluding the Q&A session, NA Chairman Nguyen Phu Trong said that most questions focused on traffic infrastructure building, which is defined as a strategic issue. Over the past years, despite being a poor country with limited resources, Vietnam has paid much attention to building major traffic works.
He noted that the perennial "disease" of Vietnam 's traffic infrastructure is the delay in progress, execution and disbursement, leading to the bad quality of many works.
He urged the Minister of Transport to revise the transport development plan of the country and seek scientific solutions to the issue of traffic jams.
According to the NA leader, Minister Dung gave the deputies frank, brief and direct answers in which he admitted shortcomings and delivered concrete promises on the things he would do.