New and high technologies must be applied to develop radio frequency and ensure its efficiency, several National Assembly (NA) deputies said October 26 during a debate of the Bill on Radio Frequency at the ongoing NA session in Hanoi.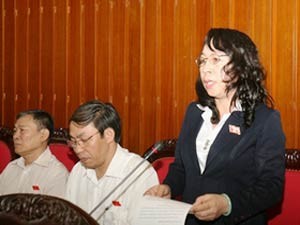 Deuty Nguyen Thi Mai of Ninh Thuan Province voices her opinions on the Radio Frequency Bill at the NA session in Hanoi on October 26 (Photo: VN Media)
They also said the bill should include regulations on facilitating the exploitation and use of radio frequencies in remote, border and island areas for the sake of security, defense and public welfare.
Discussing a regulation in the bill which regulates that a specific agency in charge of radio frequency must be set up, many NA deputies, including Tran Du Lich of Ho Chi Minh City, Duong Kim Anh of Tra Vinh Province, and Vo Thị Hong Thoai of Bac Lieu Province said that the authority, functions and duties of such an agency must be elaborated in the bill.
As an especially important resource in the country, radio frequency is of great significance not only in security and defense but also in social and economic development, so it must be managed by an agency that has a specific legal status and qualified technical ability, they said.
Deputy Tran Thi Dung of Dien Bien Province said that radio-user fees should be regulated more clearly in the bill for easier payment collection.  
Most delegates said the bill's regulations on radiation safety must be made clearer to help prevent harmful impacts of radio frequency on people's health. 
In accordance with international commitments, some delegates said, there should be an independent agency in charge of radio frequency and its operation must be regulated in the bill.
But many others said the suggestion was not suitable to relevant regulations in the Constitution and the Law on Organization of the Government.
Deputy Tran The Vuong, head of the NA's Committee for People's Aspiration and a member of the NA's Standing Committee, said such an agency should be put under the control of the Ministry of Information and Communications.