National Assembly (NA) deputies were divided yesterday on whether to change the definition of a child from someone under 16 to under 18 in the Law on Child Care, Education and Protection.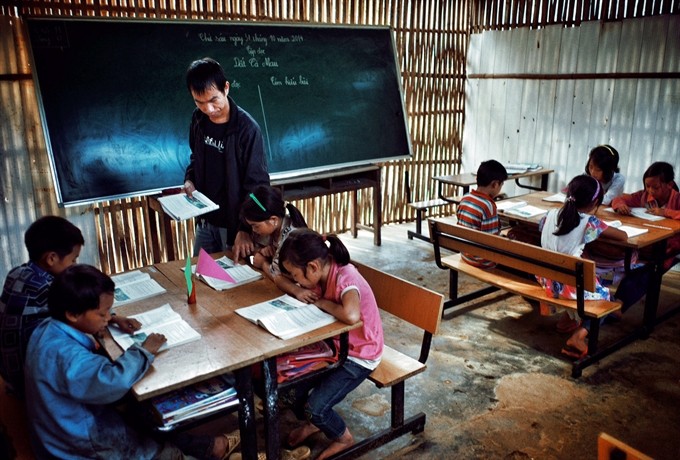 Children attend a class in the northern mountainous province of Lao Cai's Bat Xat District. National Assembly deputies discussed yesterday the revised Law on Child Care, Education and Protection. - VNS Việt Thanh
During a plenary session of the ongoing 11th meeting, some deputies said raising the age was reasonable, while others fiercely opposed the change, saying many countries are decreasing the age of responsibility, not raising it. Deputies have argued over this issue at previous meetings, as well.
Reporting on the draft revised law, Dao Trong Thi, head of the NA Committee for Culture, Education, Youth, Adolescents and Children, said the committee wanted to make sure the term "juvenile" meant the same thing across all legal documents.
Deputy Dinh Xuan Thao from Hà Nội said the revision matched scientific changes in the psychophysiology of a person who turns 18.
"Some countries have regulated that those who turn 18 can be completely independent, without their parents' supervision," he said. "In other Vietnamese legal documents, the age of maturity has been defined as 18, like in the Constitution and other laws."
According to Thao, raising the age of adulthood to 18 would help more people between 16 and 18 get the care, education and protection they deserved. Many deputies disagreed.
Deputy Truong Trong Nghia from HCM City said raising the age to 18 also meant having to change a number of laws related to criminal activities, marriage and underage sexual intercourse.
"It is not necessary to make adolescents from 16 to 18 children under the law, as they will lose many rights," he said, adding that there were many other ways to take care of them without designating them as children.
Deputy Pham KHanh Phong Lan from HCM City expressed her concern that the change would mean that teenagers between 16 and 18 in relationships with each other could be committing crimes by being together.
"Regarding the Law on Military Service, does this mean children (who are between 16 and 18) will also be mobilised when the country is in need?" Lan asked.
Deputy Nguyen Ba Thuyen said the focus needed to be on taking care of children from 16 months to 4 years old instead of those from 16 to 18.
There was much disagreement on the issue of age, but the majority of deputies agreed to change of the law's name to the Law on Children.
The legislators also presented opinions on principles that would ensure children's rights in regards to child care and education, children living in need, child protection during litigation, settlement of administrative violations and community reintegration.
Earlier yesterday, NA deputies discussed in groups a draft working report on the legislature's 13th tenure and its agencies for 2011-2016.
They also mulled over working reports from the president, Government, prime minister, chief judge of the Supreme People's Court, prosecutor general of the Viet Nam Supreme People's Procuracy and State auditor general. All the reports were presented to the deputies and broadcast live the day before.
The NA deputies are scheduled to debate the draft Law on Access to Information today